Each December, I spend a few days acknowledging the previous twelve months and what they have meant to me.
This year, despite the desire to see last year in my rear view mirror, I will be doing the same. For the next two weeks you will find me sitting, notebook and favorite pen in hand, reviewing, remembering, and releasing all that the previous year has been and done for me.
​
Why is this vital?
Because in order to create something new, you have to acknowledge and release the old. Then you are free to let your imagination soar into the heights of aspiration and inspiration! None of the greatness within me (and you) is possible without this process. Just like a seed bursting to life from the dormant soil, we must dig deep before we can push outward and upward.
I have been a goal-setting nerd for decades. Several years ago I became a certified coach in several goal-setting and leadership modalities, including Ideal LifeVision. I use the tools and techniques on a daily basis. As a result I have achieved many of my dreams and goals over the years. I've also taught this to my executive clients and coaching students and seen the amazing results they have been able to achieve with their manuscripts and their mighty messages.
It works!
​
Your Soul Purpose in Words is a multi-part year-end release, renew, and creation for the coming year. I really think if there's any time in our human history that this is needed, it is RIGHT NOW! It's our moment to take our personal power back. ​
​
​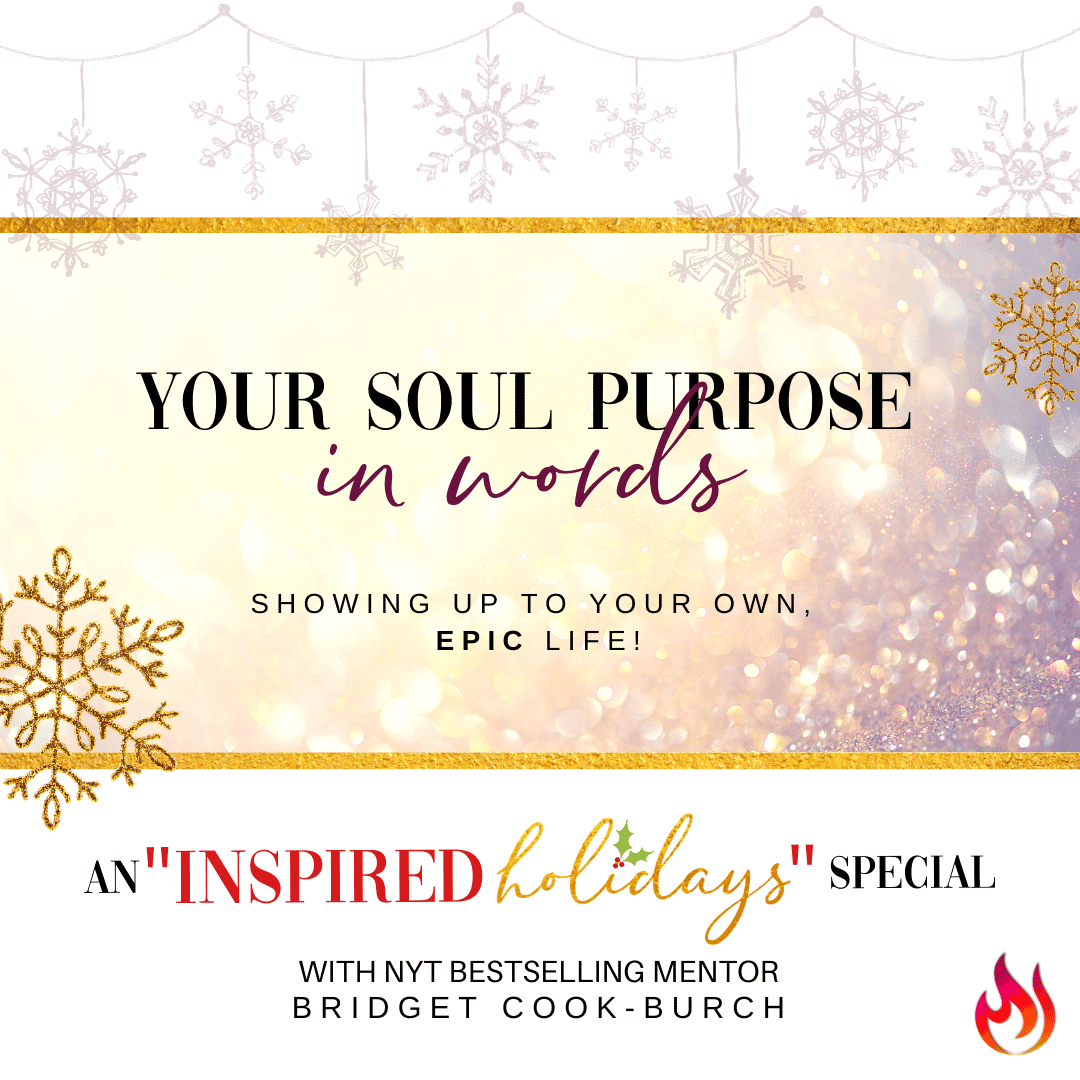 In this hour long program we'll work through the following:
"Releasing" the previous year and things or experiences you don't want to carry forward.
Envisioning what you want for the next year.
Defining your EPIC contribution for the coming year.
Writing your Vision Statement for the coming year.
Writing your Mission Statement for the coming year.
Determining your One Word for the coming year.
Taking your Vision, Mission, and Word and translating that into Action Goals in each of five core areas.
The best plans in the world don't move the needle if you don't take concrete action. So I've also included several experiential exercises to cement your new understanding into solid habits! Part of the full-color workbook even includes extensive Goal identifying, setting, and achieving exercises.
I invite you to take the time needed to complete this process for yourself and for your dreams and goals. It's how I stay on track and in alignment with my life's vision and purpose.
From one of my students:
"Bridget's program Your Soul Purpose in Words allowed me to shed 2020's negative energy and fully embrace 2021 with an open heart. I had a visceral reaction to what I experienced last year and was able to let it all go, then shift into a powerful place of creativity and empowerment moving forward. This program has so many profound elements in such a short amount of time. At the end of my journey with this program I had a crystal clear vision of what I want to create and manifest in 2021. Thank you Bridget! Participating in your program resulted in one of the most life actualizing mornings of my life!"
- Wendy C.
Together we're going to turn last year into a year that prepared you for your most epic year yet!
This can be your year, if you choose.
​
"When we are no longer able to change a situation, we are challenged to change ourselves." ~ Viktor E. Frankl
​
NOTE: Your Soul Purpose in Words will only be available December & January each year.